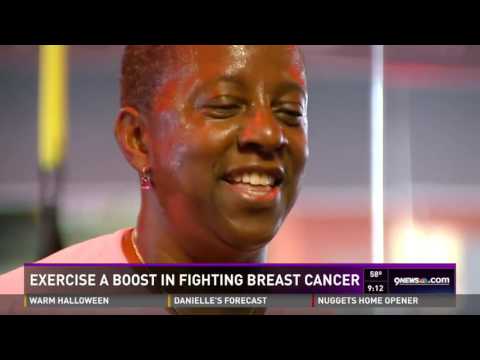 >>> WORKING UP A SWEAT CAN DO MORE THAN HELP YOU TOLD THAT.
IT CAN BE KEY FOR PEOPLE BATTLING BREAST CANCER.
TODAY SURVIVORS, FIGHTERS AND THEIR FAMILIES JOINED DOCTORS.
THEY MET UP IN CHERRY HILLS VILLAGE FOR AN INTENSE WORKOUT.
WITH THE DEEPER PURPOSE.
>> GRABBED THE HANDLE.
>> THE ROWING MACHINES.
>> THE CARDIO WORKOUT THE TREADMILL.
WE DID SOME STRENGTH TRAINING AND SOME WEIGHTLIFTING.
GETTING OUT AND DOING EXERCISE IN DOING THINGS OUTSIDE OF LIVING INSIDE THE DIAGNOSIS IS IMPORTANT.
MENTALLY AS WELL AS PHYSICALLY.
>> I'M REGINA BROWN A MEDICAL ONCOLOGIST AT THE UC HEALTH LONE TREE BREAST CENTER AND I AM A BREAST CANCER SURVIVOR.
SYMPATHY WASN'T ENOUGH.
HAD TO BE ABLE TO EMPATHIZE.
WE KNOW THE BENEFITS OF EXERCISE AND PREVENTING RECURRENCE AND PEOPLE WHO HAVE EXPERIENCED CANCER AND HOPEFULLY PREVENTING CANCER IN THOSE WHO HAVE NEVER HAD CANCER.
>> THIS IS THE PUSH.
>> THINGS GO FAST ONCE THE PROCESS IS STARTED.
WHETHER SURGERY OR TREATMENT 1st.
WERE ABLE TO SEE ON A DAILY BASIS THE BENEFITS OF EXERCISE.
IT CAN ACTUALLY PREVENT RECURRENCE.
MOST IMPORTANTLY FOR THOSE PATIENTS, FOR THOSE PEOPLE WHO'VE NEVER EXPERIENCED A CANCER DIAGNOSIS EXERCISE CAN HELP PREVENT THEM FROM HAVING TO EXPERIENCE IT.
PATIENTS WILL HIT POINTS WHERE THEY FEEL LIKE THEY CANNOT DO IT ANYMORE.
AND SO TO BE ABLE TO LOOK THEM IN THE EYE AND SAY, I KNOW WHAT YOU FEEL, I KNOW IT'S GOING TO YOUR HEAD, YOU COULD LOOK AT ME AND SEE YOU CAN GET THROUGH THIS.
AND YOU WILL GET THROUGH THIS.
>> WHAT A GOOD WORKOUT.
DOCTOR BROWN KEPT UP A CONSISTENT EXERCISE ROUTINE THROUGH CANCER TREATMENT.
SHE HOPES EXERCISE PROGRAMS WILL BECOME A STANDARD PART OF TREATMENT.
I CAN SAY I DO THAT WORKOUT AND IT IS NO JOKE.
Source: Youtube